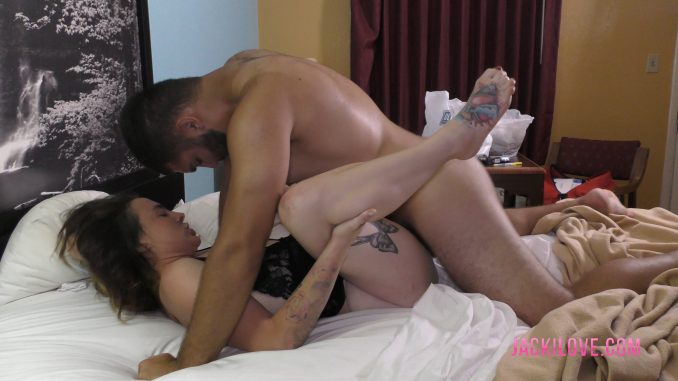 RaKream's creampie audition with Dahlia Deviant (1080p)
RaKream's creampie audition with Dahlia Deviant (540p)
Dahlia has a young, 20 year old stud, RaKream. He's a longtime fan and when I learned that our crew was going to be in the same town at the same time, I had to set this one up for Dahlia, and the chemistry was immediately obvious, with his excitement. It's also good to hear Dahlia go "that's bigger than I expected" when she pulls off his sexy underwear. She also moans how she likes his beard when he starts eating her out. He's getting all the good feed back in just the first 3 minutes! She also notes that he has no problem showing off his firm butt and manhole to the camera, which SHE LOVES.
When he puts his fat cock inside her, the moans just get louder. She's amazed that a 20 year old has some mature man stamina as he pounds away in lots of positions and makes her cream all over the bed. We aren't even half way thru the video when you hear her mention that he's already gotten her off three times! Then after plenty more pussy eating and pussy pounding, RaKream puts a huge dripping load deep in Dahlia's snatch. YUM!
Enjoy and thanks for supporting the site. Loveya, Jacki
**Ignore the whining noises from the adjoining room, we helped relocate a rescue, and he fell in love with the cam guy and hated being away from him for even a moment. haha, true reality video here.


1080P Full HD


540p Web HD
(2738)