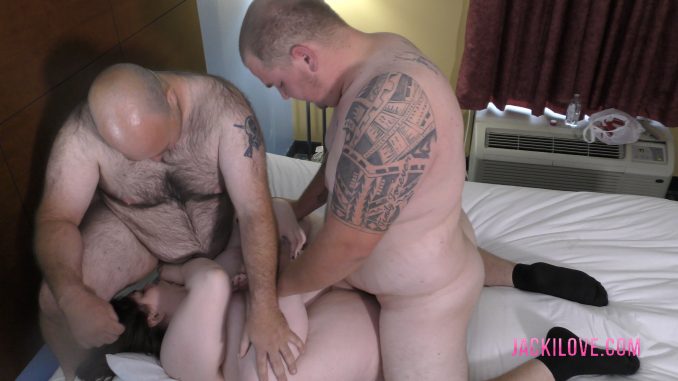 Lillith's Beary, Creamy, Squirty, Threesome, Part 1 (1080p)
Lillith's Beary, Creamy, Squirty, Threesome, Part 1 (540p)
Mmmmm, flashback, been awhile since we had this much beef all at once! Where are you poohbear!?
Lillith has some nice beefy tattoo'd southern men today, she's overwhelm immediately thinking of all the options haha. I love when that happens.
Both guys are uncut with sexy bellies, and beefy butts! And hot willing mouths, so she lays back as they eat her pussy and work a vibrator on her clit! Taking turns working her orally and getting her to suck and fuck them, it isn't long before she GUSHES and squirts all over their fingers and in Chewy Bearman's mouth, you can hear him slurping it all up. YUM! Cody Rodeo, shoots a thick dripping load into her, and has to leave to take care of his cows, but Chewy is not done yet, he makes sure to fuck and lick Lillith's creamed pussy, making sure her afternoon of enjoyment doesn't end! At the 30 minute mark they are still going, Lillith has lost track of how many times she's orgasmed, and then there is a knock at the door! Looks like we have someone else coming in to help out! Part 2 coming soon.
Thanks for supporting the site, Loveya, Jacki


1080P Full HD


540p Web HD
(2144)