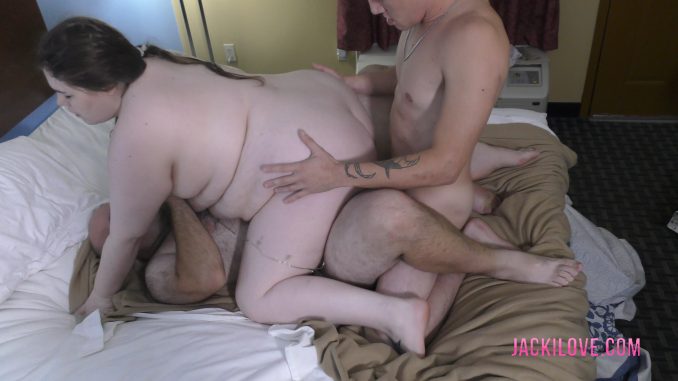 (Part 2) Lillith's Beary creamy Threesome (1080p)
(Part 2) Lillith's Beary creamy Threesome (540p)
At the end of Part 1, Cody had left to go back to the farm, and Chewy was still pounding away and then we had a knock at the door.
Well we pick up Part 2, today with Logan Trace coming in, cocky and horny as usual. From the very beginning, Logan asks Chewy what's he want to learn, to which Chewy replies, "I know everything". Lillith says that sounds like a challenge and boom, the scene starts off amped up a notch.
We have Logan sucking and fucking Chewy while at the same time working Lillith's clit and making her squirt all on Chewy's face, You can here him slurping the wetness.
At one point Lillith is riding Chewy while Logan is banging Chewy's ass deep. Logan pulls out shoots his load all over Chewy's cock and then Chewy using the cum as lube fucks Lillith until he creampies her. Did i mention that the other vibrating egg was up Chewy's ass at the same time as Logan's cock. Soo freaky and hot. There was so much going on, I probably missed something. It's hard to type and rub my pussy at the same time!
Enjoy! And thanks for supporting the site. Loveya, Jacki.


1080P Full HD


540p Web HD

(3008)