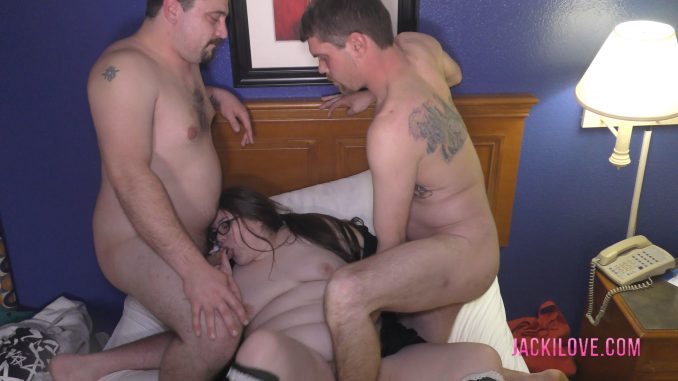 Buck Nekkid and Sin creampie BBW Lillith Rae (1080p)
Buck Nekkid and Sin creampie BBW Lillith Rae (540p)
Sin a longtime regular is back, and another regular, Buck Nekkid is here, and now it's Lillith's turn to be pleased, by these two uncut country guys. We slip in some double barrel, blowjob action, fucklicking, some DVP attempts and plenty of teamwork fingering. Lillith even left some hair on her pussy for those that have been requesting it.
So much is in this video not even sure which parts to make sure to describe. Let's talk about the awesome amount of squirting that the guys get out of Lillith. Fucklicking, is good that way. Sin even had to take break to catch his breath after nearly choking on squirt after some particularly rough fucking by Buck made it go everywhere including up Sin's nose! Funny and sexy at the same time! Love how this video is like a nice throwback to where everyone is working together to get the scene going. Takes guys with stamina to get these long hang out scenes going. Mmm that incidental contact of the guys during the fucklicking is a turn on for me still!
Almost 40 minutes of straight reality sex!!!!! And of course both guys fill her up with creampies.
Enjoy and thanks for supporting the site. Loveya, Jacki

1080p Full HD

540P Web HD
(2434)