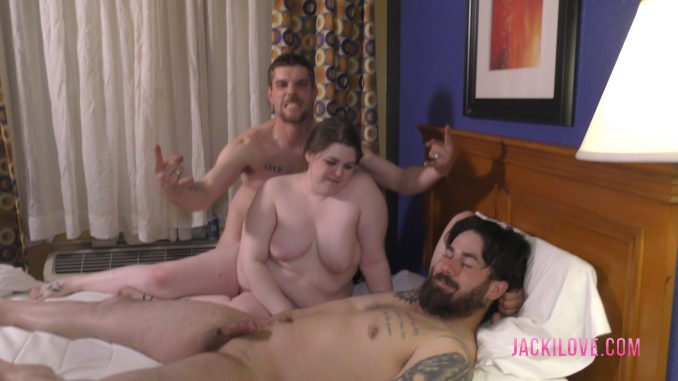 Buck Nekkid and Black Jack MMF Threesome with Lillith Rae (1080p)
Buck Nekkid and Black Jack MMF Threesome with Lillith Rae (540p)
A nice long video full of fun, some of our followers love quickies, some love these extended sessions. Hard to find guys that can keep up with our extended sessions, haha, so they aren't as common as the quickies, but we do try! Today, we have one! Hung, full of fun, uncut, Buck Nekkid is back and he's helping out with another threesome. He loves taking control and giving directions to the other guy while he's fucking. He doesn't mind giving us plenty of naked camera guy action either. I love those shots where he's walking around with his hard uncut cock.
There is alot going on in this scene. Some fucklicking, some DVP attempts, Black Jack wasn't quite ready for that level of kink but he did try a few times. He also took some nice wet squirting to the face as Buck deep stroked Lillith hard and when she was close to cumming he yanked out his cock fast making her really gush all over Black Jack's face.
After lots of fucking sucking, even some spanking and eating in many positions, they finished up with Black Jack jerking off while he watches Buck fucking and making Lillith cum again! So sexy.
Enjoy and thanks for supporting the site! Loveya, Lillith

1080P Full HD

540P Web HD
(2575)