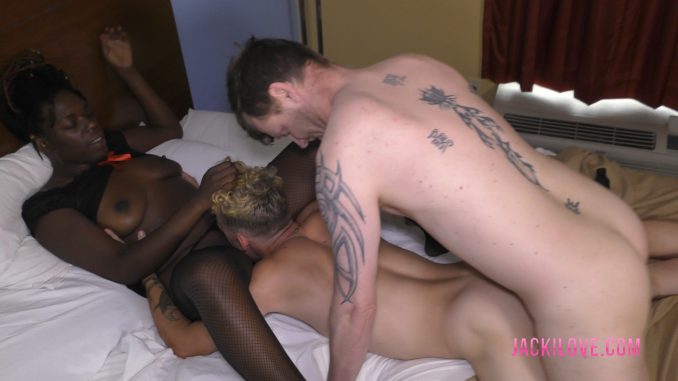 Cupcake's first Bi-Guy threesome (1080p)
Cupcake's first Bi-Guy threesome (540p)
Two site regulars, join Cupcake today. Ronin Cage, and Logan Trace. Cupcake tells them, pretend she's not there she wants to watch which Logan laughs and dives right in to sucking Ronin's cock. Ronin looked a little nervous about the switch, but once Logan starts slurping and deep throatin, Ronin goes with the flow. Cupcake, squeals when Logan loudly slurps on and can't resist joining in on the action. The tag team dick sucking as well as Logan licking and fingering Ronin's ass, has Ronin on the edge of cumming. It gets even more intense when Cupcake sits on Ronin's face.
Well we know Logan doesn't just use that tongue on guys. Cupcake lays back and then Logan goes down on her until she's squealing and pushing on his head after he makes her cum multiple times in a row. ALL WHILE Logan is taking a pounding in the ass from Ronin. The end of all this hot bi threesome, is Ronin shooting a huge load all over Cupcake and Logan's face!
Enjoy and thanks for supporting the site, Loveya, Jacki!


1080P Full HD

540P Web HD
(3237)