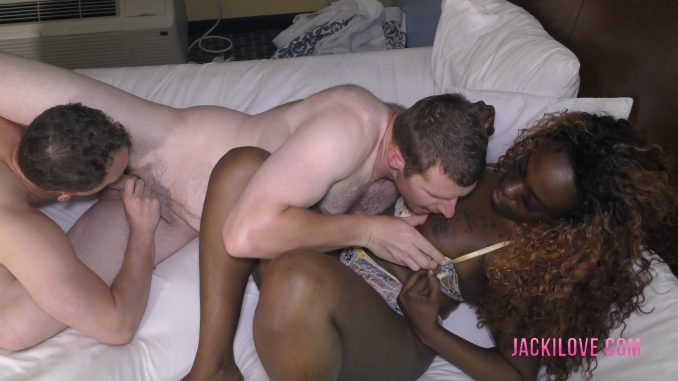 Big Frank goes bi with Cupcake and Logan Trace (1080p)
Big Frank goes bi with Cupcake and Logan Trace (540p)
Cupcake is back and her two favorites, Logan Trace and Big Frank are joining her again. After seeing Logan, licking her pussy juices off of Big Frank's cock. She decided she wanted another go round to see just how far she could push Big Frank with Logan. HOT, a woman after my own kinky heart!
It gets hot really quickly, with Frank working Cupcake's nipples and pussy with his mouth, while Logan goes down on Frank's uncock tasty cock. So good, that Big Frank has to tell Logan to slow down, with his deep throat because, it was TOO GOOD. Logan then changes it up and starts rimming and tongue fucking Big Frank's, bottom.
Cupcake whispers, "make me cum" as she rams Frank's face down on her pussy. Meanwhile, Logan get's Big Frank's asshole nice and wet with his tongue and then slips his bareback cock inside him. Not long, until Big Frank stops Logan again thinking that he might cum. Cupcake shouts cum on her toes! She's been reading some of her fanmail. 🙂
Big Frank gets a little distracted by the toes request but then goes back to eating pussy while Logan keeps working his ass, until he gets wound up and blows all over her toes. With Logan then finishing on Big Frank's back. I think this is my favorite scene of the year and probably my favorite Cupcake scene so far!
Enjoy and thanks for supporting the site. Loveya, Jacki

1080p Full HD

540p Web HD
(3679)