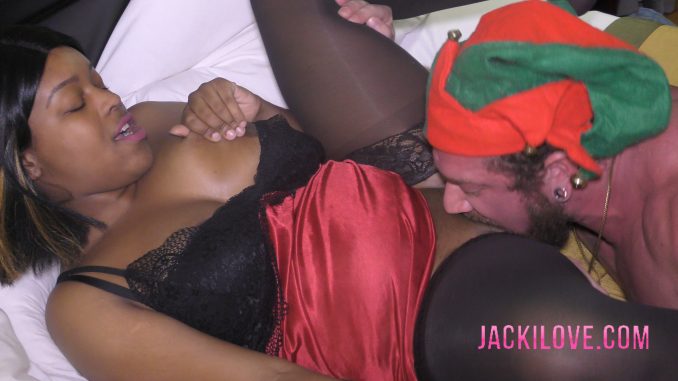 Miss Kelly Lynn gets serviced by Bodybuilder Elf, Viking Strong (1080p Full HD)
Miss Kelly Lynn gets serviced by Bodybuilder Elf, Viking Strong (540p)
What does a sexy lady like for a holiday present. Well we make the day all about us and we bring in a sexy hunk of a boy toy. 2019s holiday end of the year updates starts with Viking Strong in his first JackiLove.com video!!!! I've been wanting to have some fun with this guy myself for a few years now! Couldn't make our schedules match yet, but Kelly Lynn gets the luck!
The scene starts off with her getting special elven tongue service. And not just on her pussy, when Viking slips his tongue in her ass, we get a extra special squeal, and a note that she's gonna have to inform santa about his kinky elves. Haha
The way he's eating her pussy like he's been starving, makes her ask if they ever fed him up at the north pole. If you enjoy watching guys enjoy pussy in a video. then yes! This is the one, he eats it from the back, from the front, from the side and with her on the top. Her tight little pucker is ticklish too because says she's getting hot, and has forgotten how to take off her clothes. Hahaha! Been awhile since i've had that kinda service where I lose the ability to do things.
Viking also loves her big areolas, and he puts plenty of sucking on them, but he doesn't forget to rub the clit while he sucks them.
Then the fat cock of Viking Strong squeezes its way inside of her tight pink pussy, and he even slips creampie before banging her even harder and blowing over her pussy as he moans and groans. So hot watching his big muscle butt work as he pounds her.
Enjoy and thanks for watching the site! Keep watch all of December for some extra posts of guys we have auditioned!!!
Loveya, Jacki

1080P Full HD

540P Web HD
(2175)