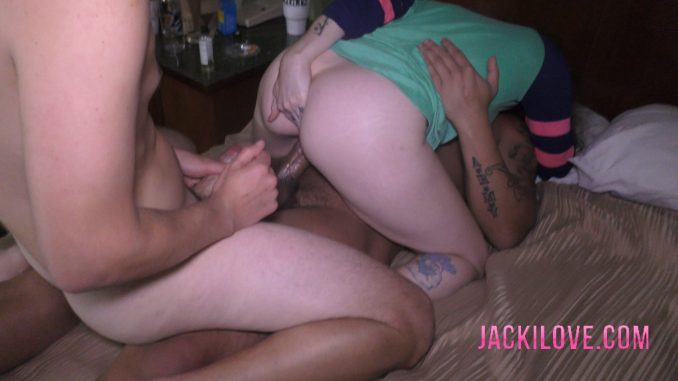 Triple creampie, Double Penetration fun day with Jacki Love (1080p)
Triple creampie, Double Penetration fun day with Jacki Love (540p)
I'm such a mean and selfish woman sometimes, luckily my boytoys like it! The cam starts rolling with me all ready in the middle of a fun time with Lake Rese, eating my pussy and me sucking on Lance Ryder's big cock, just for fun. Lake eats my pussy until I come again, and then, says "you want to fuck her?" to Lance, while Lake thinks he is going to get to cum on my face. WRONG, a big dose or orgasm denial, for Mr. Rese because i tell him know and then take a nice big load in my pussy from Lance.
It doesn't stop there, Jack Toms comes in and I keep the fun going with him and make Lance stay to give me more of that big dick. You see i've been playing more and more with anal, and I gave that privilege to Jack today! Since I just decided to spring all these things on the guys today, it's kinda random as positions and angles though, but it's pretty hot having these two straight guys having to rub up against each other as they try to figure out how to fill my holes up. I wonder how they going to feel when they see how their balls rubbed up against each other as they made me cum… I think they'll be ok, they know what kind of freak i am and keep coming back for more.
After pounding my ass some more Jack switches holes and gives me the second nice creampie of the day in my nice sloppy cumfilled pussy. Lance gets going good again and gives me a great dripping third creampie. So so yummy.
Enjoy and thanks for supporting the site. Love ya, Jacki

Full HD 1080P

Web HD 540P
(3609)