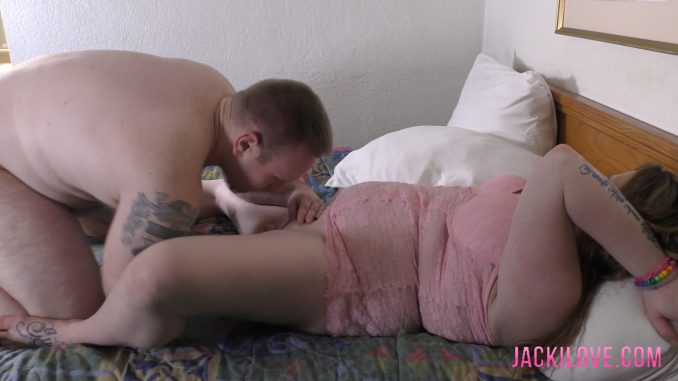 Walker services and creampies Dahlia Deviant (1080p)
Walker services and creampies Dahlia Deviant (540p)
ONE of my old FAVORITES!!! WALKER IS BACK!!! He's now beefier and furrier. He said he was down for the males taking instruction video and for orally servicing Dahlia. After his tongue work it didn't take long for her to start begging him to fuck her, but he refused, and kept forcing orgasms out of her. I love how about 8 minutes in she tells him to cum for her, he says "no" and the fucks her to another orgasm. Mm his thick legs and furry chest so sexy pounding her, I do remember his stamina.
Then he asks her to get on top, she says "NO" as she takes the power back and tells him not to stop fucking her haha. He looks over at the cam guy as if to say, she's going to fuck me to death. haha, but he doesnt stop he obeys and keeps fucking her. This time on her side, while smacking her ass until she squeals "OW" but neither of them say the safe word, she whimpers and and moans from his hard slaps. Not sure what kind of domination this is, as they both push each other to keep going. It looks like Walker is the dominant one for most of the video. At one point saying, "she's done, but i'm not". He was wrong as she grabs her legs and squeazes them up in the hair, taking his cock with pleasure, and pinching her own nipples. He begs her to get on top again, and she smiles and says, "NO, you don't deserve it" and makes him keep fucking even though he's exhausted.
Then when he can't fuck her anymore, he goes down on her again, workng her clit and orally pleasing her, as she tells him to lick her clit until he obeys. At about 17 minutes in they are both passing out, and cam guy wraps the scene, or so he thought because, nope they were not done. After a short nap, the camera comes back to them having sex in the dark. Dahlia is moaning and Walker is back on the job pussy eating and this time he also fucks her and creampies her deep. Not stopping there, when the cam guy prompts him to go down on her and eat his own creampie. Walker complies and gives her pussy one last good long lick.
Plus, PISS cam is back!! As Dahlia chats and watches Walker piss at the end of all the fucking.
Enjoy and thanks for supporting the site. <3 Jacki

Full HD 1080P

540P Web HD
(1942)