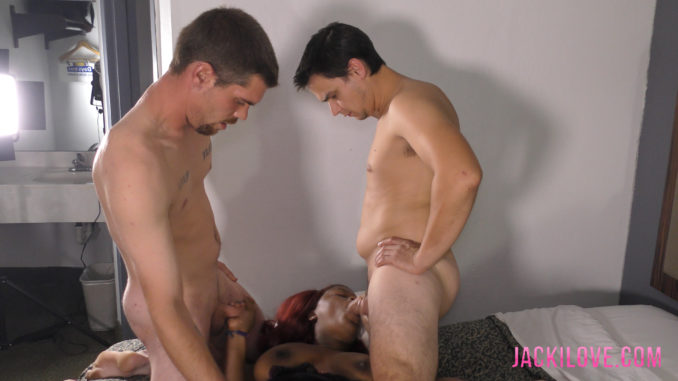 Danielle Reid and Johnny Smoke cuckhold Buck Nekkid (1080p)
Danielle Reid and Johnny Smoke cuckhold Buck Nekkid (540p)
Danielle Reid stepping up her kink game today!   She has her boytoys shave her vag.  Which is very hot, we get lots of close ups of her sexy pussy as they work on it.  But that's not the only kink, Buck is being cuckholded, he knows he's only there to add a little fun for Danielle and Johnny.   Five years ago, they shot her first porn scene ever.
So much is in this one, we get some manhole as they both go down on her smooth freshly shaved pussy.  We get some double barrel blowjob action where she rubs their two cocks together.   There is some fuck licking and rimming where Buck Nekkid is serving Danielle orally while she ride on Johnny's big cock.   Then we get some of Buck fingering Danielle while Johnny is still fucking her.
Then Buck Nekkid is made to sit by and watch as Danielle gives Johnny Smoke a nice handjob with a happy ending!  I think cuckhold duty was a little more stressful than Buck thought when he volunteered.   He looked very jealous and sad when Johnny was moaning and cumming, as Danielle stroked his cock.  Loved this scene.
Enjoy and thanks for supporting the site!  <3 Jacki
(3082)