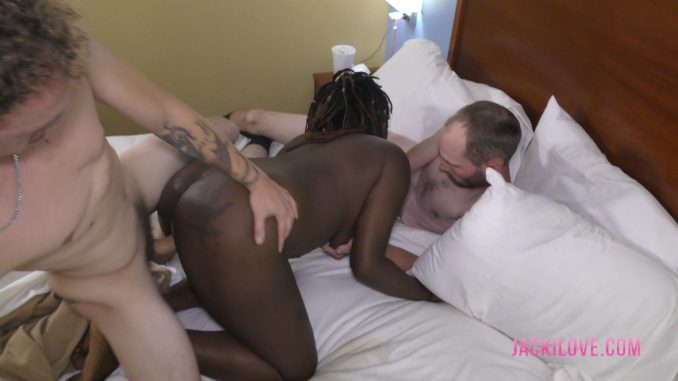 4 cumloads, Cupcake gets 3, the floor gets one (1080p Full HD)
4 cumloads, Cupcake gets 3, the floor gets one (540p)
Cupcake is back and today she has slim,hung, Long Jon, and sexy, horny, Logan Trace. They start off with some kissing and pussy eating, before going into some dualingus. Long Jon, maneuvers up to get some head, while Logan slips his dick into her hot pussy and still remembers to tickle the clit.
Logan tags in, Long Jon, smiling evilly as she squeals when Long Jon's fat dick stretches her open. She squirts on his dick as he shoots a huge load in her leaving a nice mess for locally to fuck sloppy seconds style for a bit doggystyle. Logan pounds, Cupcake good and deep long enough for her to need a quick break. Logan ask if she can take anymore dick, and she jokingly says know but at same time hungrily shaking her pussy at him. He bangs her a bit more on the edge of the bed, banging her deep, before taking a seat so he can stroke and watch Long Jon eat her pussy for awhile.
Eating pussy always gets Long John hard, so he slips his cock back inside of Cupcake to blow another load in her. Logan gets excited watching this, and has no where to cum on short notice so he blows on the floor! He's still not done yet though, he still blows a hot load on Cupcake's pussy and then eats her clean.
Enjoy and thanks for supporting the site! Loveya Jacki


Full HD 1080p


540p Web HD
(2030)