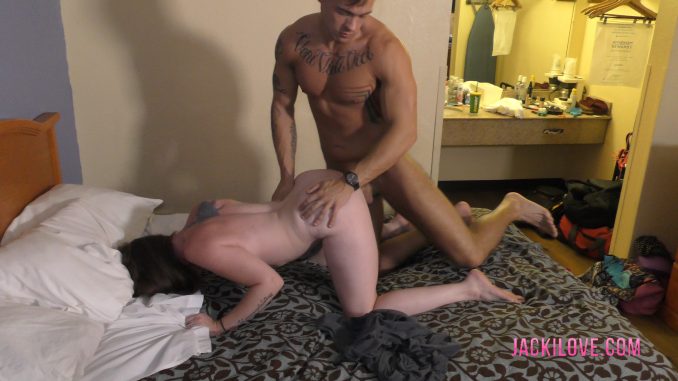 Muscle hunk, James Rose, creampies Jacki Love (1080p)
Muscle hunk, James Rose, creampies Jacki Love (540p)
The guy we have today is James Rose, and he was such a good time you know I've already invited him back for more! I mean he's like a human vibrator. Cock is always ready and good to go!
I start of by getting a taste of his hard cock, then he puts it in, and damn he's hung just right. I can feel it deep! He's in great shape so he can keep that thrust up, just right. Watching the video back, get the added bonus of seeing his tanned furry ass going up and down as he pounds me until I cum.
More than once, he made me cum hard enough that I would have to change it up or stop and have a smoke haha. He got worried that I wasn't enjoying the deep dickin, I had to let him know that I wasn't bitchin, I was just having a smoke! If he had let me I probably could have used him for HOURS. He just kept getting me off from every position. He even let me lick his hairy asshole and suck on his sexy toes.
Then after making me cum yet again, then he gets a lil dominant with me and tells me to make him cum. Well you know i couldnt say no to that, it was only fair after the good time he'd given me all evening. I love it when the dick is so good it has me screaming and begging them to keep fucking me. He had my pussy singing with his deep long strokes, and then he filled me FULL with a nice creamy load.
And piss cam is back, he wasn't shy about me watching him at all.
Enjoy and thanks for supporting the site. Loveya, Jacki

1080P Full HD

(1639)