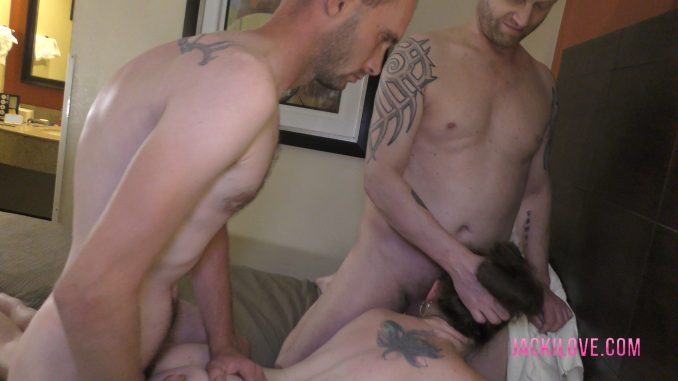 Marathon creampie fuck day Part 2 with Jacki Love, Ronin Cage and Long Jon (1080p)
Marathon creampie fuck day Part 2 with Jacki Love, Ronin Cage and Long Jon (540p)
So I was inviting all the dicks that had good reviews from all the other Jacki Love ladies, and even though I wanted to get a huge gb going, timing didn't quite work out for everyone's schedules. Near the end of the last update, Long Jon, knocks, he came in right after work, so after a quick break for him to freshen up, we get started on PART 2!!!
Long Jon is HUNG, and it is FAT, the camera does not do this sexy slim tall guy justice for how big his cock is, I knew DVP wasn't going to happen with this one! I get Ronin to sit on my face so i can rim him and take Long Jon's fat dick and quickie creampie because yeah, it was snug in my pussy he couldnt hold back too long, but he isn't one to tap out, he keeps going just like Ronin.
After Long Jon creampies me, Ronin fucks the sloppy seconds some and then, Long Jon goes down on me for an extended sloppy seconds pussy eating session. He kept working until I came and squirted so hard it was dripping off his face. He smiled, and said he was used to it. Like we said he is known for his oral tongue work. He gets excited from all the pussy eating and gives me some more dick but can't quite get a second nut. So Ronin steps in and pounds another big load in me for Part 2! It was GREAT! I hope for more marathon days like this. I slept so good after this one!
Enjoy and thanks for supporting the site. Loveya, Jacki

1080P full HD

540P Web HD
(2857)