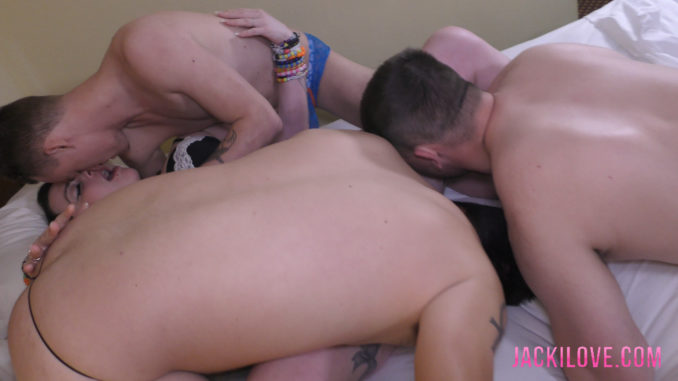 (BISEXUAL)Logan Trace and JD Conway give Dahlia a big DV creampie (1080p)
(BISEXUAL)Logan Trace and JD Conway give Dahlia a big DV creampie (540p)
Another bi experiment for our guys, and I think it was Dahlia's first time with a kinky almost foursome. Clark Star, JD Conway, and Logan Trace all came in and agreed to experiment a bit. We start off with Dahlia dressing them up in some sexy underwear before they get down to it. Then we have Dahlia blowing beefy stud, Clark, Conway in his g-string giving her oral, and Logan going to town on Conway's uncut cock. We have a little of Clark going in for some dualingus, but he quickly backs out of it and decides to let Logan and Dahlia share suck on his cock instead. Logan is also multitasking and and grinding on Conway's cock. Then it gets even kinkier. With Logan sucking Clark and grinding on Conway, while Dahlia sucks on Logan and sits on Conway's face. After awhile Logan gets Conway riled up enough that he slips Conway's bare cock into his tight ass. Conway even manages to sneak a finger into Dahlia's ass while all that is going on! Watching this video is hot, but so much is going on it's like trying to narrarate a football game, haha.
Now next position we have Logan doing some fuck licking and some pussy juice covered cock sucking of Conway, as Dahlia sucks on Clark.
With all that hotness and kinky bi action going on, Clark backs out to just watch at about the 19 minute mark to just watch. Don't worry he's down for joining in again soon, his cock was just a bit overwhelmed with all the new action going on for his very first time.
Conway and Logan continue on after Dahlia points out that apparently Conway came or precame a bit already from the hot feeling of fucking her while Logan was licking her pussy and Conway's balls. NICE! They all play around with fingering oral and fucking, and finally they end up in a hot Double Vag. That sees Logan and Conway both cum up inside of Dahlia at nearly the same time. It was gooey, wet messy and sexy! Then Logan gets a little taste of the cum before he and Conway hit the showers while Dahlia films and watches. And that's not all, we even have some of the guys pissing at the end! This 40+ minute video was full of all of my favorite things and some new combos! Enjoy and thanks for supporting the site. Loveya Jacki
(4070)