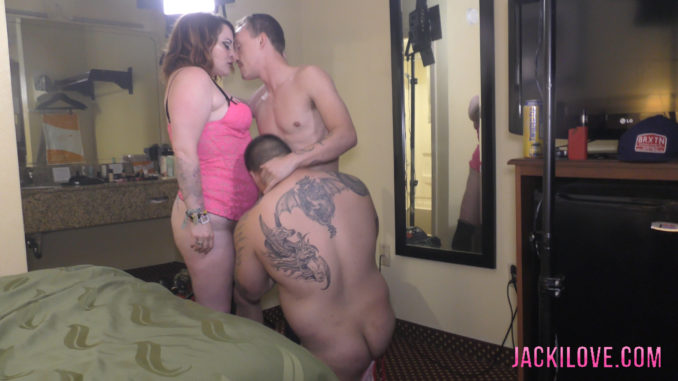 (Bisexual)Damien Dragon and Logan Trace creampie Dahlia Deviant (1080p)
(Bisexual)Damien Dragon and Logan Trace creampie Dahlia Deviant (540p)
Today we have another new guy. Damien Dragon, an uber straight fearless beefy guy, joining us for his first scene with Dahlia and Logan Trace. So this guy, tells Dahlia, I'm not scared of anything, I just climbed a cliff barehanded yesterday. She says 'oh yeah, but what about kinky sex'. He tells her nothing scares him, even if it doesn't turn him on, it probably wouldnt turn him off. He tells her to surprise him. Well of course we setup something to push his boundaries. We brought in our well trained bi, boytoy, Logan Trace, to help her challenge Damien boasting.
(so I took a little break to masturbate before finishing up this synopsis) ha!
Damien seems a puzzled about what to do with Logan, when Logan let's him know that he's open to some bi play, but tells Dahlia he'll follow her lead. And that Damien does! He starts off kissing Dahlia, then Dahlia goes down on them both and he grabs and kisses Logan! So hot, but even hotter is when Dahlia stands up to kiss Logan, Damien goes down and aggressively sucks Logan's cock for a bit. Dahlia then maneuvers onto the bed and tells Damien to go down on her.
Logan takes the opportunity to eat Damien's big beefy ass, before slipping his bare cock into that beefy straight virgin asshole. This is the first time we hear Damien grunt as he takes his first cock. Cam guy prompts Dahlia to talk dirty, and she tells Damien to take that cock. He even hops in on the dirty talk telling Logan to fuck his ass. Dragon then rams Dahlia for awhile while Logan plays around with their holes.
True reality porn here, they kind of get into the fucking and leave Logan hanging by accident, but our trusty cam guy helps them get back on track, with a new triangle oral move, that I think I've done before haha. Good thing he steps in because we get some good views of Dahlia sucking Damien and Damien getting his face fucked by Logan! Mr. Dragon is doing really well in his first sex scene! Logan still end up the cuckhold again though because Damien takes over fucking Dahlia again and filling her up with his hot creampie. After showing the load off, Dahlia gets Logan to eat the load out of her. Then he bangs her a bit more doggy style, and eats her before blowing his own load all over her pussy. "I like Logan." Dahlia says at the end. WE Do too, Dahlia we do too. haha.
Enjoy this hot bi guy action scene, hopefully as much as I did! Loveya, Jacki
(5585)